Driving back and forth to Philadelphia, I'd never given much thought to Wilmington, Delaware. It was that city after the Starbucks at Delaware House on I-95 that we cruised through on the way to my parents.
My in-laws lived just west of Wilmington in Pennsylvania, across the Delaware state line. I'd been to Winterthur and Longwood Gardens but didn't know about the wealth of history and other attractions the Brandywine Valley offered around the city.
That is until I pulled off the highway and stopped in for a visit one weekend.
My friend Amy and I were looking for a quick break; a diversion from the summer that was upon us. Her feisty toddler was rolling into a new class at daycare, while my boys were out of school for the summer. It was a time of transition, and as moms, we just needed to catch our breath before we dove in.
We couldn't go far given our time constraints, but we could get out of town. Thankfully, Wilmington is a straight shot north of Washington, DC. We packed our bags and headed north. Sleep, good drinks, a hot meal, and a bit of history were in our futures.
Stepping into Royalty at Winterthur
As every parent knows, mom is the queen of the house. What better way to kick off our independence from the family than with a visit to Costuming The Crown at Winterthur Museum, Garden and Library?
This temporary exhibit at the former Henry Francis du Pont estate showcased the costumes used in seasons one and two of the Netflix show The Crown.
We were short on time, due to some traffic and escaping our kids, but as a rabid fan of the show, I was excited. My friend had never seen The Crown (oh, the horrors!), so it was my job to indoctrinate her into this world.
I was a bit giddy as we walked through the multi-room exhibit, taking in the wedding dresses, and everyday wear of the Queen and Princess Margaret. Historical images of both women, the men in their lives, as well as other members of the Royal Family, were an educational compliment within the exhibit.
Somehow, just through clothing, the characters were brought to life in a new way; deepening relationships between fathers and daughters, husbands and wives, lovers and mistresses.
Most intriguing of all, this exhibit brought into sharp focus the difference between Queen Elizabeth II and her sister Margaret. Through conservative versus more flamboyant dress, each woman's wardrobe showed off the difference in their roles within the English monarchy.
I'm happy to report that Amy will now be going home to binge watch the Crown. Who couldn't after seeing this exhibit? I know the royalty nut in me was appeased.
Sadly, the exhibition is closed in early 2020, but keep an eye on the Winterthur website for new exhibits that always worth seeing.

CLIFFORD BROWN JAZZ FESTIVAL
Historical experiences and Netflix queue now filled, it was time to grab a drink and experience the jazz scene of Wilmington. Not many people know that Wilmington is host to the largest free, multi-day jazz festival on the East Coast.
The festival celebrates the life of trumpet player and composer Clifford Brown, who lived in Wilmington, but tragically died in a car accident at 25 years old in 1956.
As we rolled into the city center looking for parking, we saw couples and families heading down the block towards Rodney Square with chairs in tow. The Clifford Brown Jazz Festival wasn't just a commemoration of a musician's life, it was a celebration of the community.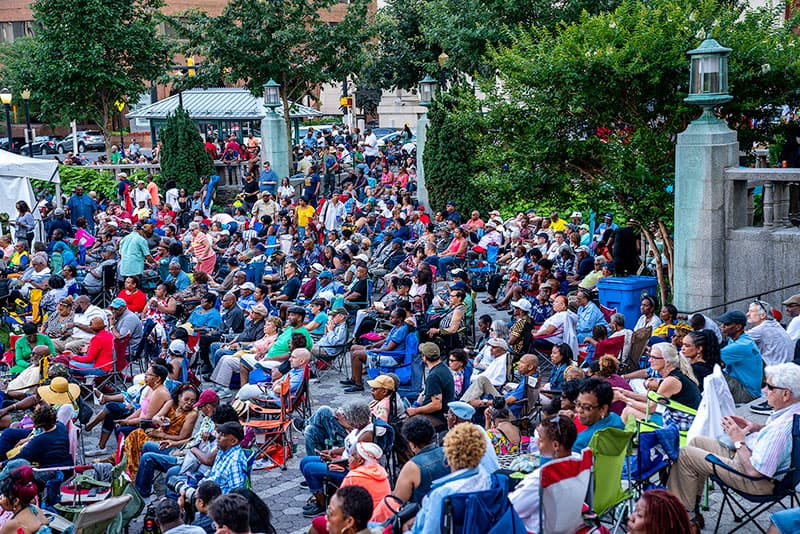 Neighbors were snuggled up together, chair arm to chair arm, to make sure everyone got a spot. University of Delaware students were seated on the ground, because why would a college kid ever own a lawn chair?
Coolers filled with waters and sodas, potato salad and chicken were ready to be devoured between sets.
The Wilmington Police Department was out to make sure everyone remained safe, with officers enjoying the music with the crowds and chatting with little ones in the closed off streets.
Trumpets wailed and the drums titter-tatted, as new wave jazz filled the night. The lineup would include old-school favorites as well as more experimental sounds. Musicians both young and old filled the stage, but all had one thing in common—a love of music and an appreciation for a man who paved the way for them to play.
Breaking it down with the Bartenders
During the hot, lazy days of June, after having our fill of jazz, we needed a few libations to ease ourselves into the night. We also had to start planning out the following day. As moms, we are always planning. This trip, we had an idea of what to do, but not everything was locked down… like breakfast.
I find it entertaining to quiz the local bartenders whenever I'm in a new city. After all, they know the best breakfast spots, because more often than not they are working late and are either hungover or feel hungover because they have to be up for another shift or second job in the morning.
The bartenders at Merchant Bar were no different. These two knew where to get the best coffee and bacon. While mixing up an Off the Wagon (bourbon-based drink with smoked cinnamon) for me, and a classic Bee's Knees for Amy, we got the inside scoop.
If you wanted the best breakfast, you go to Brew Ha-Ha in Greenville. Masa Pancakes and Chilaquiles were what got one of our bartenders through the morning at Brew Ha Ha, so we would have to check it out.
De La Coeur Café et Patisserie was also great for coffee and pastries on the go, but the line for sit-down breakfast could get excessive if you were in a hurry.

RESTAURANTS IN WILMINGTON, DELAWARE
After all this talk of food, we were starving. We headed across the street to Merchant's sister restaurant, La Fia. Owned by James Beard-nominated Chef Bryan Sikora, the food centers on local sustainability with an Italian bent.
We had already filled up on a cheese board at Merchant, so we stuck to small plates, like the beet salad and rigatoni with house-made Italian fennel sausage. Each was packed with flavor, but more importantly, good comfort food after a day of travel and exploration.
Understanding the du Pont History of Wilmington, Delaware
Winterthur, where we had seen Costuming The Crown, isn't the only du Pont estate in the Brandywine Valley. There are four du Pont estates in Wilmington, as well as Longwood Gardens just over the border in Kennett Square, PA.
The Hagley Museum and Library is where the du Pont story comes to life at the restored gunpowder mills that helped the family make their fortune.
We wouldn't have time to visit Hagley during our short escapade through Wilmington, but there was no way I would miss out on one of the other du Pont mansions I had heard about growing up and had yet to visit.
I'm not sure if my parents didn't have the money or the time. More likely they didn't want to bring two squirmy girls to houses filled with breakable objects.
Either way, it was now my turn to experience the grandeur of one of America's wealthiest families of the 20th century.
More du Ponts at Nemours Mansion
Having already visited Winterthur, I was ready to see something new. Nemours Mansion and Garden was home to Alfred du Pont and inspired by the Petit Trianon at Versailles.
We opted for the self-guided tour instead of a volunteer-led tour as soon as the property opened Saturday morning.
It was Family Day, so multiple activities were set up in the gardens for kids to enjoy. Fishing at the pond, bee keeping, a children's parade, and more activities brought this property to life for visitors of all ages who wanted to know how the family lived.
The grounds, which also mimicked the French gardens of Versailles, with the long, manicured lawn, fountains and statues, were easy to stroll before it became too hot. You can take a tram through the property, or you can walk.
As always, we walked, choosing to stretch our legs at our leisure since the kids weren't with us. It's the little things that make travel a bit more relaxing and joyful when you aren't herding cats (I mean kids).
One of the funniest things about the property is the sign at the visitor's center. They ask that you not sit on steps or pose in doorways. Apparently too many Instagram models were showing up and taking up space. We were happy to oblige, although we did sneak in a few photos on the fly.
Growing Up Longwood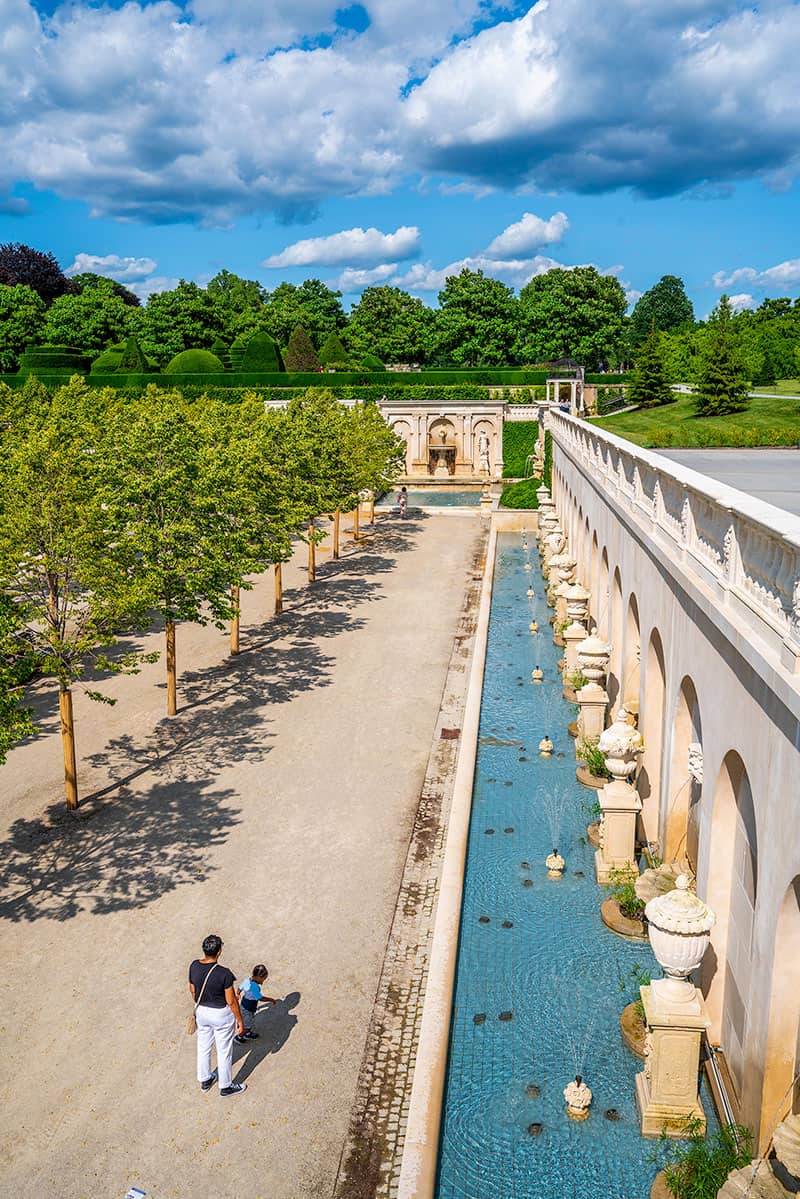 I grew up knowing about Longwood Gardens. We went when I was little at least once that I can recall. Anyone living in or around Philadelphia knew that it was the most beautiful garden around and had some pretty spectacular fountains.
My husband certainly grew up going, having lived just down the road. In fact, his sister married a landscape design student from the school at the gardens.
We now try to bring our boys every Christmas to see the Conservatory holiday displays and lights. Yet, somehow, we have never been in the summer. It's either too hot, we were always traveling, or we just didn't make it because life got in the way.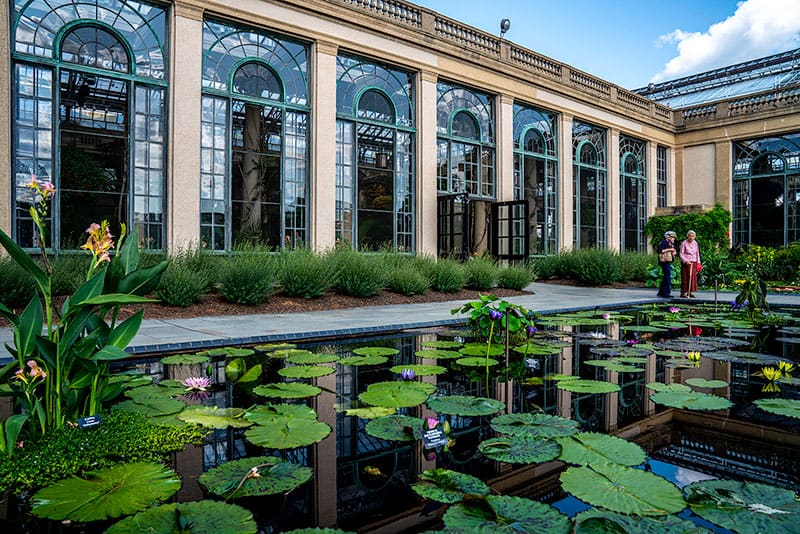 There were no more excuses left. Wilmington was our hub and Longwood Gardens was only 20 minutes away. Even more important, the Illumination Fountain Performances were back up and running. I didn't want to miss seeing one, even if it meant we had to hang out at the garden for several more hours than we had planned.
Amy was game to bum around this Pierre S. du Pont Estate. After a filling lunch at Corner Bistro, we headed north into the horticultural wonderland that is Longwood.
Longwood Gardens Brings Out More than Just Blooms
I am a self-proclaimed expert on the Longwood Gardens Conservatory. My family and I cruise through this massive greenhouse every year, looking for our favorite rooms—the orchids, cacti, bonsai—but I don't know the grounds at all well.
Amy and I wandered, getting lost along lanes, following signs, and finding increasing moments of awe that someone in the early and mid-twentieth century thought to dream up. The fact that the main fountain was part of the original design, not added more recently, still baffles me. It's an engineering marvel!
If you grab a seat just outside of the Conservatory, overlooking the fountains, you can watch the daytime Main Fountain show that is set to music. Check with garden staff and your map to see when they will play. More child-friendly tunes ("Mary Poppins," "Sesame Street") are played early in the day, while Big Band and pop favorites will be played later in the day.
As much as I love the fountains, it is the gardens that I really enjoy.
We walked through the Topiary Garden, Italian Garden and Idea Garden. I felt like Rapunzel as we wandered past the Chimes Tower.
This is the beauty of Longwood Gardens—everyone can feel like a prince or princess, lord or lady, as they walk through the property. And even when you visit, there is no way you will see everything.
Nighttime at Longwood Gardens
Even with the expansive lands, Conservatory and Peirce-du Pont House, we still found ourselves with some extra time to sit in the beer garden and have dinner at the Café on the Terrace before we found seats on the bleachers outside of the Conservatory.
I wanted to make sure I got the best spot to take video of the Illuminated Fountain performance. While the seats to the left were gobbled up as soon as people could start throwing down their stuff down, we found that the bleachers to the right were forgotten.
We popped right into the front row for a great view of all of the action.
The show lasted approximately 30 minutes, with the audience wrapped up in the beauty of the lights, water, music, and yes, even fire, for the duration of the show.
Afterward, we snuck back over to the waterlilies, which open up their blooms at night, with a few other people who were in the know. A cranky bullfrog was making his presence known with a "croak, CROAK" that became a chorus to the nighttime beauty of the vibrant purples, pinks and yellows as the lilies opened under the light of the moon.
Artistic Roots in Delaware
Our girls' weekend was almost up, but there was still plenty to do. The Brandywine River Museum of Art had a new retrospective of N.C. Wyeth work that also featured several of his children, including Andrew Wyeth.
As we watched people float down the Brandywine River through the floor to ceiling windows in the corridor, we took in the illustrations and landscapes that put both father and son on the map as top painters in their time, and made this family and the area famous.
Not to be outdone, the Delaware Art Museum's collection of pre-Raphaelite paintings was the perfect way to end our time in the first state. When we entered, we found out that the museum was free on Sundays, thanks to donations by the DuPont corporation, bringing our Wilmington history tour full circle.
Most attractions have a lazy start on Sundays, so we too were lazy, enjoying breakfast at De La Coeur, as our Merchant bartender's had suggested on Friday night. The prosciutto toast with a cappuccino woke me up, but it was a walk around the neighborhood, filled with historic (and some not so historic) mansions that got us moving.

WILMINGTON, A CITY ON THE RISE
As we wandered around these giant homes, I couldn't help but remember the classic row homes we had driven by closer to the historic downtown of Wilmington. These smaller homes built for the working class reminded me of Philadelphia and Baltimore.
New construction going up on the Wilmington Riverfront, along with businesses like Constitution Yards that face the Christina River, show where this United States city is headed. Growth is happening in Wilmington and you won't want to miss it.
The next time my family is passing through on our drive from Washington DC to Philadelphia, we won't dismiss Wilmington as a spot to wave at as we cruise through.
I'm already bragging to my husband about the coffee shops, restaurants and bars I'll be bringing him to the next time we are at his sister's and visiting his parents just 25 minutes northwest. There isn't as much near them, which makes Wilmington all the more attractive.
We will drive for good coffee, and Wilmington, Delaware has it. On my next trip, I'll bring the kids. I know what to do with my friends, but what do I do with the kids? It's time to find out and I have a feeling there is more than enough to keep them entertained. I hear there are a few dinosaurs in these parts.

SAVE MORE WITH THE BRANDYWINE TREASURE TRAIL PASSPORT
One of the most exciting discoveries during our trip was the Brandywine Treasure trail Passport. At first, I thought this was a new product put out by the tourism board. Nope. This passport has been available for years.
What is it? It is a booklet that gives you entrance into the top 12 Wilmington, Delaware attractions, and a few across the Brandywine Valley, for one very low price. A family of five can visit each attraction once this summer for under $100 total. Individuals can buy a passport for less than $50.
You don't have to use the booklet all in one day either. You can visit each attraction one time between Memorial Day and Labor Day. For one low price you now have an entire summer of activities taken care of for you. This is a game changer for families and couples on a budget. You now have no excuse not to visit Wilmington and the Brandywine Valley. I know my family is now out of excuses.
Looking for a Wilmington, DE hotel? Check out a few of our favorites!
Looking for more? Search for a great deal on Booking.com!
Content produced in partnership with Greater Wilmington Convention & Visitors Bureau, and Travel Mindset.
Want to visit? Pin it and start planning!