Packing up for a weekend in Bethany Beach with kids sounds like a pretty typical thing to do. What family doesn't like a nice beach trip? A winter getaway to the beach isn't when most families visit though, and they are missing out.
As my kids piled into the car, they wondered why were headed to the beach when it was so cold. We were bringing jackets and mittens. How were they supposed to swim? Well, they weren't, which was quite a shock.
Mom had other ideas in mind.
WHY BETHANY BEACH WITH KIDS IN WINTER?
Visiting Bethany Beach in the winter meant we could enjoy the sounds of the ocean, play in the sand and have the beach to ourselves sometimes. My husband and I thought it was a great idea. The boy still couldn't understand why I wouldn't let them put their swimsuits on and jump in the ocean.
I distinctly remember my son asking "since it was too cold to go in the water today, can we go in the water tomorrow?" Sadly, for him, my answer was no.
It would not magically be summer tomorrow.
Happily, Bethany Beach Ocean Suites Residence Inn by Marriott (get more details HERE), our hotel for the weekend, did have an indoor pool, to give my little water babies their fix.

WHEN IS THE OFF-SEASON IN BETHANY BEACH DELAWARE?
While there is no official "off season," Labor Day to Memorial Day tends to signal the end of beach days at Bethany Beach. Things actually quiet down in October through April though, as more weekenders stop coming back to visit, especially families.
Think about it—kids are in school and the beaches are less crowded. The heat and the humidity finally takes a break. Parents don't escape to the beach as they are too busy running kids to sports practices around town on the weekends.
This doesn't mean there is nothing to do.

BETHANY BEACH WEEKEND ITINERARY
Bethany Beach is one of the five major beach towns of Southern Delaware that families flock to each summer. While each town has its own vibe, Bethany Beach is laid back with a walkable downtown, and driving distance to multiple Delaware state parks, wildlife refuges and activities to enjoy throughout the year.
Unless you are ready to throw on a wetsuit to do some winter surfing, here's a sampling of what you can do during your weekend at Bethany Beach with kids.
Find the best rates and availability on hotels in Bethany Beach, DE HERE.
Day 1
Arrive in Bethany Beach
Check into Bethany Beach Ocean Suites Residence Inn by Marriott (book your room NOW)
Dinner at Patsy's Restaurant
Shore Fun Family Fun Center or Captain Jack's Pirate Gulf
Day 2
Breakfast at your hotel or Beach Break Bakries Café
Walk along the beach (especially if you brought your dog with you!)
Explore Delaware Seashore State Park (playground for the kids and lots of winter surfers catching waves)
Lunch at Dogfish Head Brewing & Eats
Afternoon at the Baldcypress Nature Center (if the weather is nice, bring your kayaks and canoes. Rentals are only available in the summer months)
Dinner at PIE (pizza!)
Day 3
Breakfast at hotel
Drive to Lewes to explore the first town in America's first state.
Lunch at Olive & Oats by Azafran
Drive home and start planning your trip back

BETHANY BEACH RESTAURANTS
Beach Break Bakries & Café, 123 Garfield Pkwy, Bethany Beach, DE 19930
Turtle Beach Café, 98 Garfield Pkwy #102, Bethany Beach, DE 19930
Patsy's Restaurant, 121 Campbell Pl, Bethany Beach, DE 19930
Bethany Boathouse, 39817 Hickman Plaza Rd, Bethany Beach, DE 19930
The Cottage House, 33034 Coastal Hwy, Bethany Beach, DE 19930
Pie, 120 Central Blvd, Bethany Beach, DE 19930
Beyond Bethany Beach Restaurants
Dogfish Head Brewing & Eats, 320 Rehoboth Ave, Rehoboth Beach, DE 19971
Olive & Oats by Azafran, 113 W Market St, Lewes, DE 19958

BETHANY BEACH HOTELS
Bethany Beach Ocean Suites Residence Inn by Marriott
One of our favorite spots to lay our heads while visiting the Delaware Beaches is the Bethany Beach Ocean Suites Residence Inn by Marriott. This beachfront hotel has an indoor pool for the kids, is steps from the beach, offers a full breakfast each morning, and is walking distance to all of the shops and restaurants.
Our family of four comfortably fit in a double room with a pull-out couch. My husband was able to sleep in each morning and make himself a cup of coffee, while the boys and I went downstairs for our breakfast. Coffee, tea and hot cocoa, along with naturally flavored water, was also always available in the hotel lobby.
Grab the best rate and availability NOW

BETHANY BEACH SHOPS
Bethany Beach shops are not to be ignored, especially when several shop owners are curating collections worthy of any big city. As you know, if you can find a shop owner who has similar taste to your own, it just takes the guess work out of what to wear this season.
We dug through many of the shops in town and found these to be our favorites to poke through for the best clothing, accessories and household goods.
Gypsy Teal, 123 Garfield Pkwy, Bethany Beach, DE 19930
Tangerine Goods, 101 Garfield Parkway Store #8, Bethany Beach, DE 19930
SALT Provisions, 123 Garfield Pkwy, Bethany Beach, DE 19930
Fells Point Surf Co., 114 Garfield Pkwy, Bethany Beach, DE 19930
Waterlili, Bethany Beach Boardwalk

THINGS TO DO IN BETHANY BEACH
The small-town beach vibe is why we visit, but even when you can't hit the surf there are plenty of things to do in Bethany Beach with kids. Mini-golf, kayaking, nature hikes, biking, shopping, reading a good book, and hunting for seashells is just the tip of the iceberg.

BETHANY BEACH BOARDWALK
Walk the Bethany Beach Boardwalk with kids. Kohrs Brothers Frozen Custard will put a smile on everyone's face, no matter the temperature. Bethany Books and the Bethany Beach Comics and Gaming shop will entertain parents and kids on a rainy day, especially if they love Marvel, Pokémon and graphic novels. For those looking for a new toys and a spot to spend their allowance, you can head across the street to Tidepool Toys & Games.

CAPTAIN JACK'S PIRATE GOLF
You can't go to the beach and not play miniature golf, at least not according to my 6-year-old son. When you go to Bethany Beach with kids, Captain Jack's is a must, yes, even in winter.
Play a few rounds to pass the time, but be prepared for your kids to beat you. It hurts, but you'll get over the fact that they are better than you. I did long ago.
Shore Fun Family Fun Center
An old school arcade that still packs in the fun for families with kids of all ages. Play games, win prizes—it doesn't get much simpler than that. A stop at the Shore Family Fun Center can save a cold and rainy afternoon when you aren't sure how to entertain the kids.
Start booking your trip to Bethany Beach NOW!

TRAP POND STATE PARK: BALDCYPRESS NATURE CENTER
One of the coolest things you can do near the Delaware Beaches is to visit Trap Pond State Park, home to the northernmost natural standing baldcypress trees in the United States. If you own kayaks, bring them to the park to kayak out to the baldcypress. You will be able to see a few from the shore, but most are back where you can only hike or paddle out to, which can be tiring for little legs.
Interest in more natural oddities?
Hunt for the Venus Flytrap in NC with us!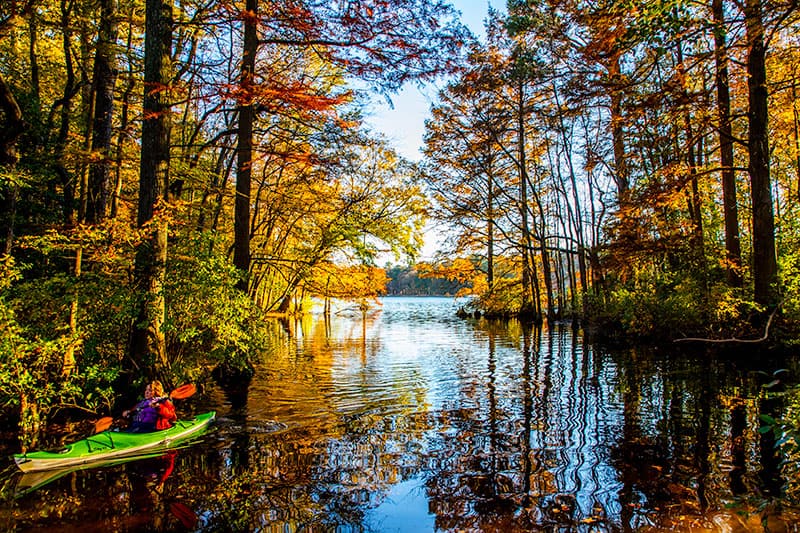 Trap Pond also has a massive playground and picnic area for families to enjoy, as well as a beautiful shoreline. The Baldcypress Nature Center has small displays that explain the significance of the Baldcypress to the area. It features reptiles, fish and amphibians found in the pond, but most importantly, how this area impacts the Chesapeake Bay region.

DELAWARE SEASHORE STATE PARK
Six miles of beach are ready to welcome you, even in the winter, as you build sand castles and check out the dunes of the Delaware beaches. Bathhouse restrooms are open year-round at Delaware Seashore State Park, making it an easy spot to stop with little ones, even on a chilly day.
Across the road you can paddleboard and kayak around Rehoboth Bay and Indian River Bay.
Don't neglect the beauty of a simple beach stroll either. The beaches are virtually empty. Take advantage of the quiet time with your kids while you can.
Surfers will want to zip up their wetsuits and dive into the waters to the left of the bathhouse, depending on the weather. There is a nice break here that the locals like to hit.

MORE DELAWARE STATE PARKS TO VISIT
If you love to hike, and don't' want to worry about a government shutdown effecting your plans, state parks are the best spots to visit.
There are two more in the area that offer plenty of beach space, dunes and walking trails along the coast.
Fenwick Island State Park
Cape Henlopen State Park
Grab the best hotel rates in Bethany Beach HERE

DELAWARE WILDLIFE REFUGES NOT TO MISS
Animal loving families know that wildlife refuges can offer critter encounters throughout the year. Along the coast, the main wildlife you will find are migratory birds who need a safe space to rest as they head south in the winter and back north when it warms up.
Fish can also be found in the creeks, rivers, and other waterways in these two Delaware Wildlife refuges.
Prime Hook National Wildlife Refuge
Bombay Hook, National Wildlife Refuge
This article is in collaboration with BrandUSA and Marriott International for the Mega Media Venture Project. As always, my opinions are my own. When they aren't you will be the first to know.