Time to get out. It was beyond time to get out of my house. The kids had been in school for a little over two months. After-school activities were in full swing and the holidays were coming up fast.
I needed a break, not just a day trip, but a few days. I called a friend; she was game for a little road trip to explore the top things to do in Norfolk, most of them free things throughout the city.
We were going to the city of Norfolk, VA on the Chesapeake Bay for food, shopping and art museums. Nothing too stressful.
Naturally, we would return with a whole lot more.
Where is NOrfolk, VA?
South on I-95 out of Washington, DC, then jogging southeast on Route 64 past Williamsburg, you run into Norfolk, VA. Surprisingly, this American military town isn't the largest city on the water in the area, despite being home to the largest naval station in the United States.
Nope, that honor belongs to Virginia Beach just down the way on the Atlantic Ocean.
What to do in Norfolk, VA
While the population may be well under a million (just shy of 250,000 in fact), Norfolk, Virginia is rich in architectural history, naval pride, artistic riches, an incredible coffee culture, more food and cocktails than you could devour in a weekend, and a whole lot of boutique shopping.
Are you ready to dive in?
Taiwanese Pagoda
One of the more unique things you will find in Norfolk is the Taiwanese Pagoda that separates the Freemason District from Downtown Norfolk. Situated on Freemason Harbor, it is the center point of the Oriental Garden.
Indulge at the CURE CoffeeHouse
Here's the thing about coffee. Starbucks is everywhere. You know what you are getting when you walk in. Most cities have one (or 30).
What makes a great coffee shop?
When I go to a new city, I want the local coffee. If they are roasting their own beans, or sourcing from a local roaster, all the better.
When they are doing fun flavors (yes, I like flavored, packed-with-sugar lattes) my morning just got better. If I can see myself working for hours, tucked in a corner of the shop, I've found my new home away from home.
That's exactly what I found when we walked into the Cure Coffeehouse in the Freemason District of Norfolk.
Can you work at Cure Coffeehouse?
Big windows brought natural light into the front, loads of little tables were scattered throughout three separate areas, with plenty of spots for single sippers with laptops to set up for the day. And outlets? Yup, almost every table had access to power.
Coffee Options
Best of all, the coffee selection was the perfect size. Cold brew, Nitro, Chai, Hot Cocoa, Teas, Beet Root Latte, Americano, Black Eye, Red Eye, you name it. Oh, and 20+ latte flavors, many I've never seen anywhere else– crazelnut, honey cinnamon, candied orange, lavender, vanilla thyme, mixi mocha, churro.
Breakfast Menu
And this doesn't even dive into their breakfast menu with avocado toasts (yes, plural), granola parfaits and one of the best Lox and Cream Cheese bagels I've had in ages. Lunch gets you even more freshly made sandwiches, salads and Elvis toast (peanut butter with bananas and berries, also on the breakfast menu).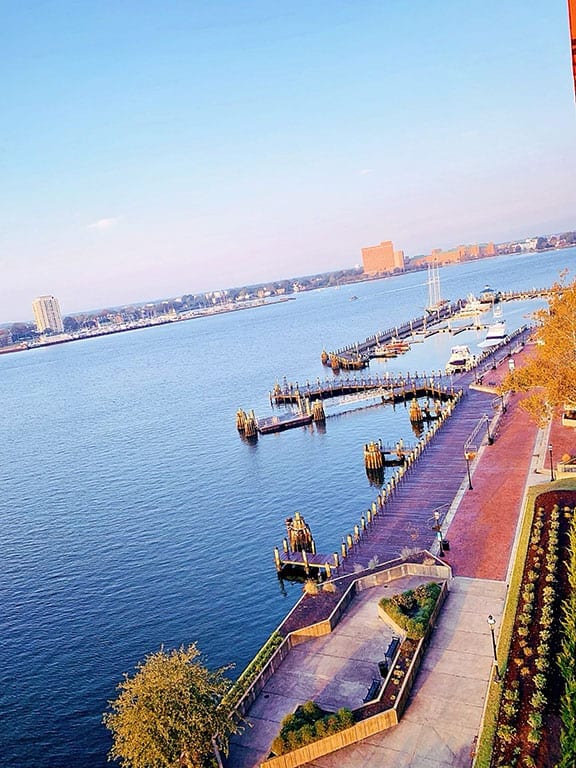 Stroll along the Elizabeth River Trail
Now that you have grabbed a coffee, it's time to step outside. Cure Coffeehouse is just off the Elizabeth River Trail, a walking trail that connects you from downtown Norfolk, through the Freemason District and a little past Historic Ghent. Yes, you can bike it, but we like to use this walking trail as our guide through the city when we need a little inspiration.
Things to know about the Elizabeth River Trail
Keep in mind that this is not a paved path along the Elizabeth River. There are some surface streets you will have to cut down in order to stay on the trail.
How to Explore Norfolk on the ELIZABETH RIVER TRAIL
We suggest you use the trail as a guide when exploring the city, not as your definitive road map. For example, you can follow the trail into the Freemason District, but hop off to cross a bridge into Ghent to get to the Chrysler Museum of Art.
Continue with your day by having lunch in Ghent and exploring the shops in the neighborhood.
Glass Making Demos at Perry Glass Studio
Ok, so you won't be breaking anything (we hope), but during a demo at The Perry Glass Studio, they will be breaking quite a bit of glass. It's very exciting, no matter how old you are when you visit.
Glass Making Demos
I've been to my fair share of glass making demos. They are pretty routine– Here's hot glass. We'll pretend we aren't spinning a vase or a plate. Surprise! It's a vase/plate. Ok, you are done. Please go buy something from our shop.
Not so at The Perry Glass Studio across from the Chrysler Museum of Art.
This was the first demo I have ever been to where they go into the properties and history of glassmaking. It's not boring either.
I mean, how can it be boring when they are breaking wafer thin glass every other second.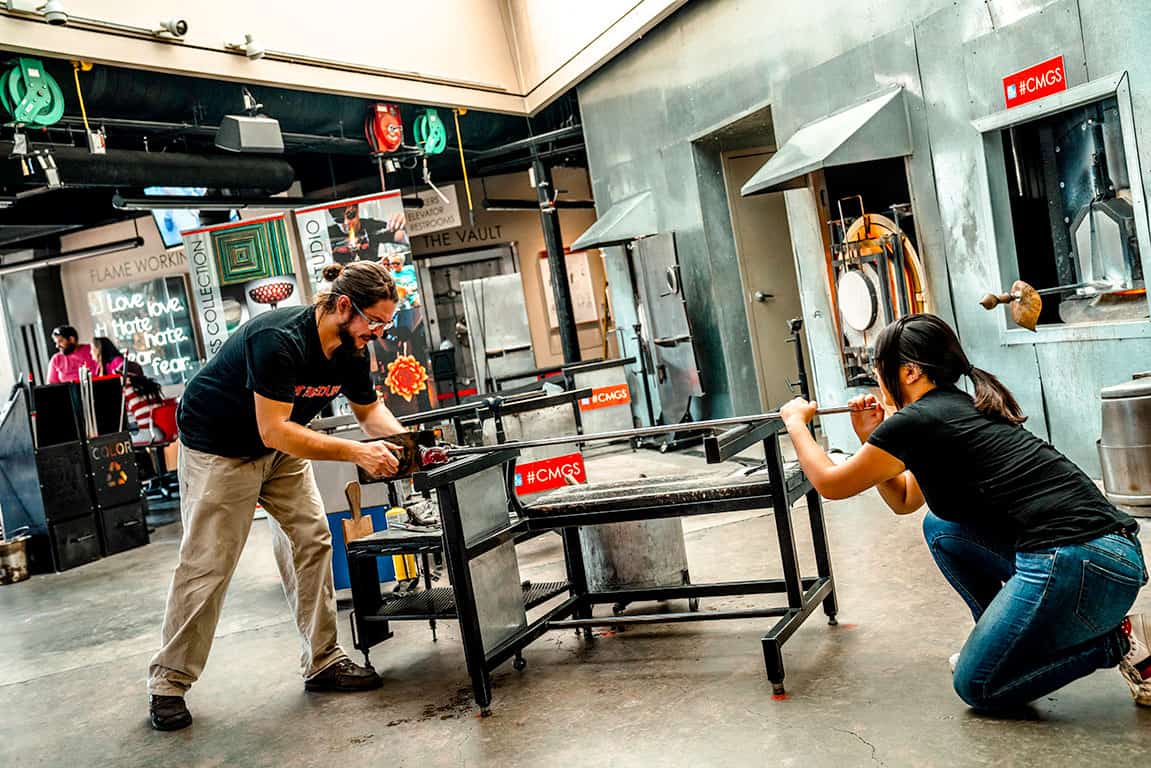 Kids and glass making
Several kids were in the audience leaning forward in their seats. Those of us in the front row had to wear safety goggles (don't worry parents, no glass ever hit us. It is just a precaution).
What Will You Learn?
We learned about fiber optic glass, how one artist I would later find in the museum, was using tiny strands of glass to build bowls and vases, bit by bit. And why some glass is clear, while other has color; what metals make which colors and why boiling hot sand is orange.
Who teaches the classes and Demos?
Not only is this demo educational, but it is fun too. The people giving the demo are whitty, sarcastic and fun, chatting the entire time, as well as taking questions. They don't seem to be too worried about getting burnt either, or so they would have you think.
Glass making Demo Admission
Best of all, demos are FREE. That's right. Tuesday through Sunday at noon you can pop in to watch a free glassblowing demo.
Join a Glass making Class
Not interested in watching? Join a class! There are several glass making classes and workshops offered throughout the year. Check out the latest on the The Perry Glass Studio website.
Explore the Chrysler Museum of Art
Just across the street from The Glass Studio, you can pop into the halls of the Chrysler Museum of Art to discover one of the largest glass art collections in the world. Just remember, hands in your pockets kids. These pieces are priceless.
How Big is the Chrysler Museum of Art?
Almost 100 galleries with more than 30,000 works of art could take all day to peruse if you like to linger, or you can find your favorites and just sit for a spell.
Is the Chrysler Museum of Art Free?
Best of all, this museum is always FREE. You never have to rush and you can always come back. Parking is also free.
Tiffany Stain Glass
My favorite piece? The Tiffany stain glass windows.
You always see Tiffany glass lamp shades, but Tiffany Studios did so much more than just light up rooms in the early 1900s (and still today for that matter). The depth of color and light that could be captured in just a single sheet of glass is magnificent, telling stories in one or more panels at a time.
Glass Sculptures Not to Miss
Another piece I still think about after my visit is called "Reclining Dress impression" by Karen LaMonte. It is reminiscent of Italian Neoclassical sculptor Canova's work, but with a more modern day twist.
The figure is dressed in a modest early 1900s dressed, but in a pose you would often see in a Roman-style marble sculpture of a woman with just a drape of fabric to cover her more "intimate" bits. It's scandalous in its own way for the time it is supposed to be set… and made entirely out of glass.
The miracle of this piece being created out of frosted glass is stunning, just as Canova's work being so realistic and made of marble was in his time.
Best Shops in Ghent
Just northwest of the Chrysler Museum, you will find a shoppers haven in the Ghent neighborhood. This cute, historic area is bursting with little shops that are packed with great finds from makers across Virginia and beyond.
My friend and I had to go back twice just to wander through all of the shops collections. And this neighborhood is not huge! The shops are just that good.
A. Dodson's
A. Dodson's required multiple visits just to dig through the entire store. Part fashion boutique, part home décor and knickknack shop, this store had it all.
It being the holidays and all, we were extra overwhelmed by seasonal goodies we just had to have in our homes. I scored a killer moto jacket, while my friend loaded up on Christmas décor for her new house.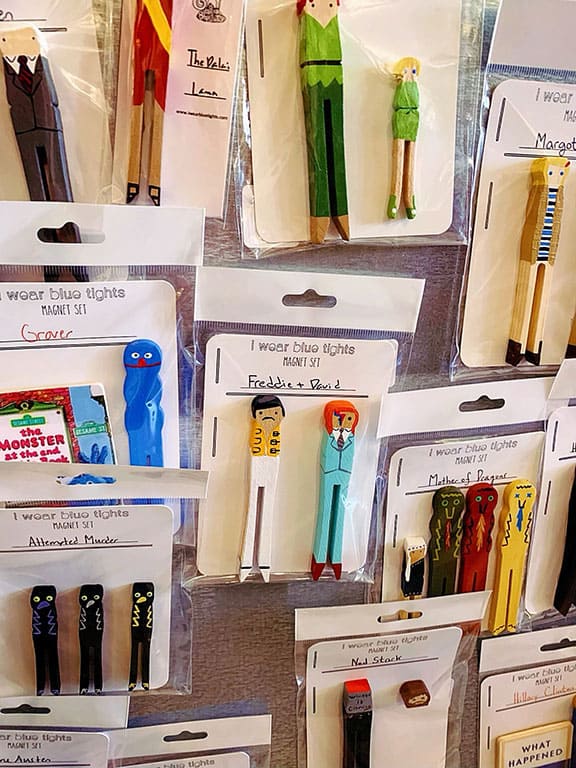 Kitsch
Kitsch was another favorite, with more than 200 local artists being featured.
Virginia-themed artwork and prints were in front, with mugs, small baby blankets, lovies and toys in the back. Jewelry hugged the sides, along with some of the cutest and most bizarre figurines I'd ever seen.
I laughed out load when I saw a series of clothespins that had been painted like characters from books and popular films. Naturally, I had to grab a set of Harry, Hermione and Ron character clothespins from the Harry Potter books.
More Ghent shops not to miss
Grab all things French inspired at La Marche, more jewelry, gifts and clothing at Texture of Ghent, and some coffee to keep you going at Town Center Cold Press Coffee.
Not only is this coffee extra strong, but they also serve up incredible coffee-inspired cocktails at night.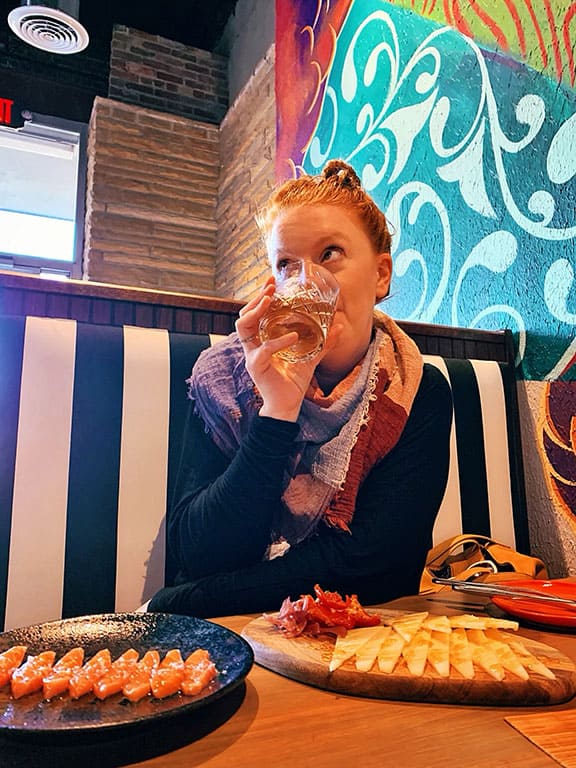 NOrfolk Restaurant Scene
Now that you have shopped, you really can't have a weekend away in a new town without sampling some of the local nibbles. And no one eats her way through a town quite like me.
How to sample multiple dishes in a new city
I've actually had friends marvel at how much I can eat while on the road.
One thing you do have to remember is that I usually have at least one person eating with me. We order a lot and share. I also don't always finish my meal. Leftovers are always welcome in my hotel room.
What's the most popular food in Norfolk?
While touring the Norfolk restaurant scene, we got just a small sampling of the amazing food this coastal town has to offer. They are very into their oysters. Sadly, I am not a raw oyster girl. I love charbroiled oysters, but the raw oyster still doesn't float my boat.
Best Norfolk Restaurants and Cocktail Bars
No matter, there were plenty of places to eat from the super fancy to the late night bowl of pulled-pork and grits (yes, it is even more amazing than it sounds).
Toast
After a longer than expected drive down to Norfolk thanks to DC traffic and a whole lot of wandering around the city, we thought we wanted fancy food. Why? I don't know. After grabbing drinks at a swanky bar, we realized we just wanted some comfort food in our bellies. This is why Toast is so important to know about.
Toast Decor
The vibe is super casual. If the weather is nice, you can hang outside on the patio. When the weather is cold, you go inside and hang at a booth or at the bar.
If you need a pick me up, you head into the girls' bathroom to watch the disco ball twirl around. And then you order your food.
Toast Menu Options
For me, there is nothing better than pulled pork. Add some salsa, guac and cheesy grits and you should probably have my bed close by.
I'm not sure my friend and I talked as she dove into her nachos with pulled pork and I dove into my bowl. Comfort food doesn't begin to describe what these savory, warm dishes did for our spirits.
There is actual toast on the menu, and a huge slice of buttered toast came on the side of my bowl. I've been told the toast is just as good as the bowls.
All I know is that heaven was in that bowl our first night, as my tired body inhaled all of the flavors.
I sat back, sipped on my whiskey beverage, and took a deep breath. This was the best way to start the day in Norfolk. Belly full, heart happy after a day of exploring, and the knowledge that more was to come the next day.
St. Germaine
Where did I get that fancy drink you ask? St. Germaine on Granby Street of course.
Skim the menu, but know that you won't understand half of it unless you are a cocktail connoisseur.
St. Germaine Cocktail options
If you are particular about your craft cocktails, do read the ingredients carefully and ask questions. The last thing you will want is a too sweet cocktail, when you wanted something more refreshing and light.
The bartender can be your best friend if you want to know more, as will your waitress if you sit at a table.
St. Germaine Decor
Stepping inside of St. Germaine, you are surrounded by dusky blue room filled with chandeliers and a deer head looking over your shoulder, judging you for ordering that drink you didn't' know a thing about (yes, the animals do judge you).
St. Germaine Dress Code
While you can certainly walk into St. Germaine dressed in a pair of jeans and cute top, many people opt to dress up for a night out on the town.
Crudo Nudo
A secret spot in the Ghent neighborhood that locals know about, but visitors are still discovering has got to be Crudo Nudo. Not only is the interior more photo ready than any space we have seen in a long time (chair swings at the front table next to plantation chairs at a table set for two plus a bold mural over the booths), but the chef and bartender really know how to treat a girl right.
We were hungry and had shopped until we dropped in Ghent. We needed food stat… and maybe a drink. Whiskey preferably.
Crudo Nudo Menu
The menu is tapas style, making it easy to sample a lot on the menu. We ordered a warm salad, char-roasted vegetables, salmon crudo, manchego and honey, and a roast pork stew that was so new they hadn't even printed it on the menu yet.
As for my drink, only the "Almonds and Honey" would do, which consisted of bourbon, burnt honey and black walnut bitters. Swoon.
Meet the Chef
Chef Eric Nelson was playing with desserts in the back. We were there in the middle of the afternoon, while things were slow, so he surprised us with his latest creation- a deconstructed bread pudding type concotion with apples and a fresh pumpkin chai ice cream paired with just a tasting of Grand Marnier peach liquor.
To say that we rolled out of there very happy is an understatement.
Special Events
Best of all, we found out that Crudo Nudo does special dinners with wine and cocktail pairings. Keep a close eye on their social media for the next dinner announcement. We might just have to pop down for it.
Varia's Wine Bar
Love wine? How about a good sommelier who can tell you exactly what you will love? Varia has all of that and a whole lot more.
Every month there is a wine class, where you will learn about 8-10 wines by region, country, old world versus new world, state, bubbles, but never just red or white.
If you don't snag a seat at this coveted class, you can still pop in for dinner or drinks at the bar, where they will happily pour you the perfect glass of vino.
Check the Varia site for class listings.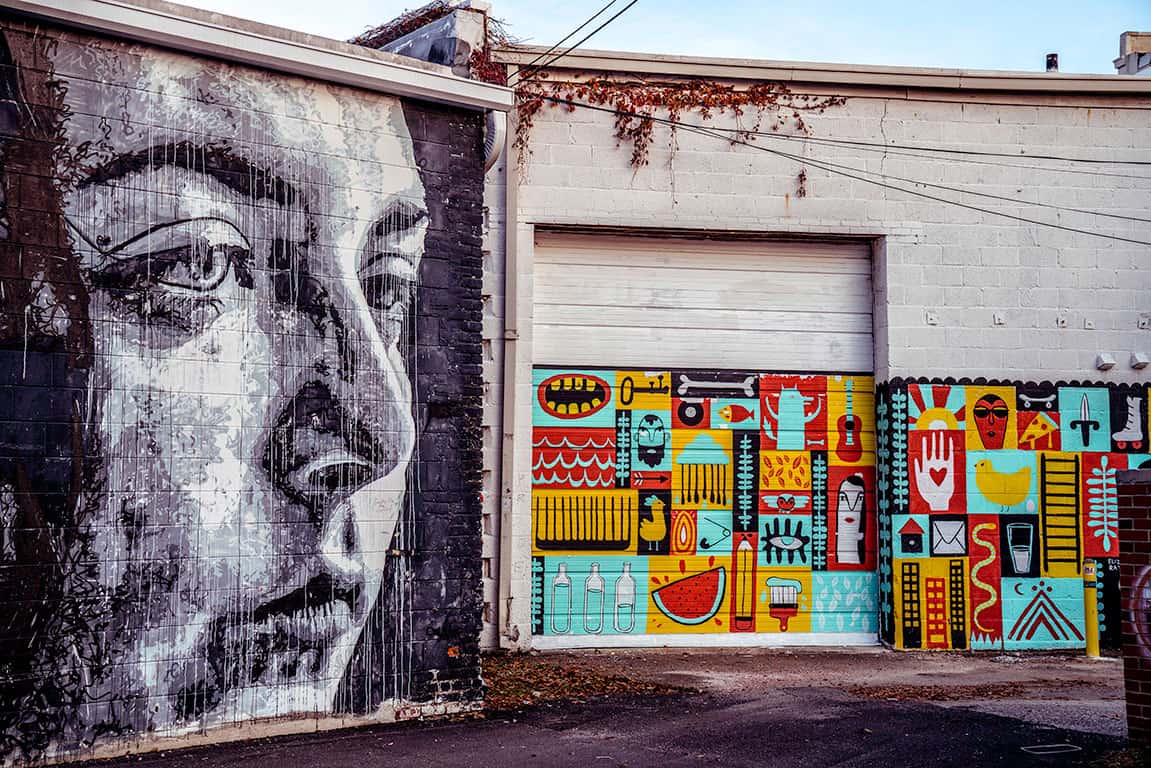 Tour the NEON District with Norfolk Tour Company
The NEON (New Energy of Norfolk) District, is pretty much the place to be if you are a mural arts enthusiast. It is Norfolk's first official arts district, creating a place for public art to exist, as well as long time institutions like the Harrison Opera House and Chrysler Museum of Art.
More funky venues can be found here too, including the Push Comedy Theater and d' Art Center, and even outdoor performances at The Plot.
Why Book a Tour?
Yes, you can wander the streets to see the NEON district murals on your own.
However, if you really want to understand the art work and why Norfolk is significant in the street art scene, you call Joshua Weinstein. His guided tours in Norfolk, VA are the best.
Meet Your Guide- Joshua Weinstein
As the founder of the Norfolk Tour Company, history buff and lifelong resident of the area, Weinstein is the inside guy you want to know. While touring around the NEON District, we kept bumping into people Weinstein knew in the neighborhood.
He's a regular fixture in these parts, having grow up in Hampton Roads, plus he knows many of the artists whose works are up on the walls, sidewalks, and benches.
Suddenly a little graffiti in a back alley just got a lot more interesting with Joshua by our side.
Hummingbird Macarons in the Neon District
While Hummingbird Macarons used to be in the Pagoda, it has since moved to the NEON District.
Hummingbird Macaron Flavors
Pop inside to experience a bite of one of Norfolk's most delicious treats. Each little cookie sandwich is bursting with subtle flavors, from the complex hummingbird cake to simple favorites like vanilla or salted caramel.
Why bring macarons home?
The décor and brush work on each macaron, as well as the vibrant colors of the cookie are what make this the perfect treat to bring back home.
You know, if you were like us and you left your husband at home with the kids all weekend, which is exactly what we did.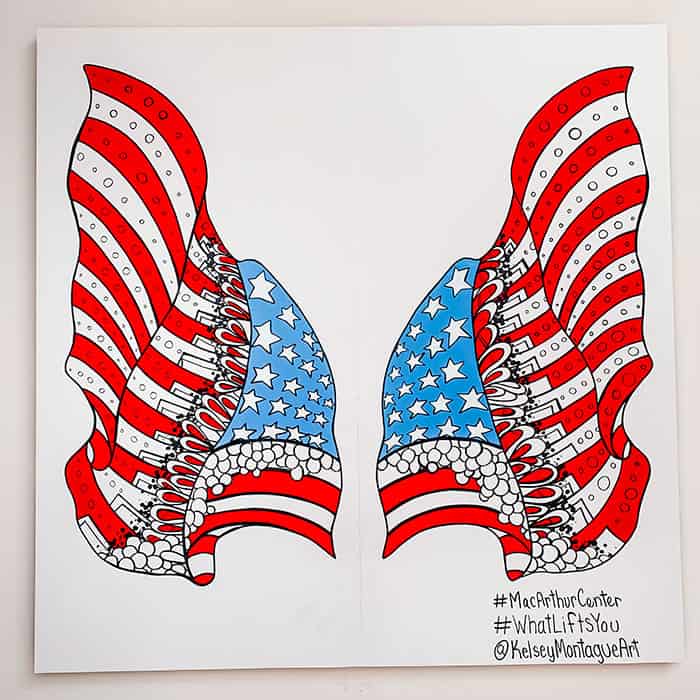 Murals in MacArthur Center
You know the wing murals by Kelsey Montague that you see all over Instagram? Black and white wings found in Nashville, colorful ones on the walls of Detroit, Galway (Ireland) and Singapore. We even have six in the DC area.
Where to find the Wing Murals
Well, you can actually find three of her pieces in MacArthur Center, the downtown mall in Norfolk. Go to the second floor, below the cinema and you will find them.
After Montague's murals went up, three more were commissioned to adorn the walls of MacArthur. Instead of leaving blank space on the walls, the mall hired artists to fill the space with beautiful colors and designs, bringing a bit of the NEON District indoors.
On a cold, winter's day, it's especially nice to see these pieces of art as you sip your hot coffee, with your coat off indoors.
MacArthur Center Shops
While you are in Macarthur Center, pop into Hamilton Perkins just a few shops down to pick up a locally made bag. You may even meet the man himself.
Each bag is made with recycled materials, and no two are alike. We love the open concept in the store that makes it easy to browse, and even harder to leave without a bag of your own.
Shop Local in Seldon Market
In an unassuming office building just a few blocks away from MacArthur Center, you will find Seldon Market. In a space that looks like it should hold a bunch of chain stores, you will actually find several small, local shops.
History of Seldon Market
The city set up this space to give designers, bakers, coffee roasters, and craftsmen and women the opportunity to get front and center with customers in a way they couldn't afford to before.
Instead of waiting years to get a brick and mortar shop of their own, local artists and makers are able to rent space in a historic venue that will get them noticed.
Vendors rotate out, so new talent is always getting a chance to shine.
Seldon Market Shops
While we were there, we got to taste Vessel Craft Coffee, find new bags at Werther Leather Goods (all locally made) and lust after the designs of Mod & Soul and Lorak Jewelry.
Food at Seldom Market
Pop-ups take over the center aisle of the first floor, generally of the food variety, including S'mores Amor (yes, there are non-chocolate s'mores for those who can't have chocolate!), Baked AF (gluten-free and diabetic friendly-treats that actually tastes good) and Filipino fusion at JackEats.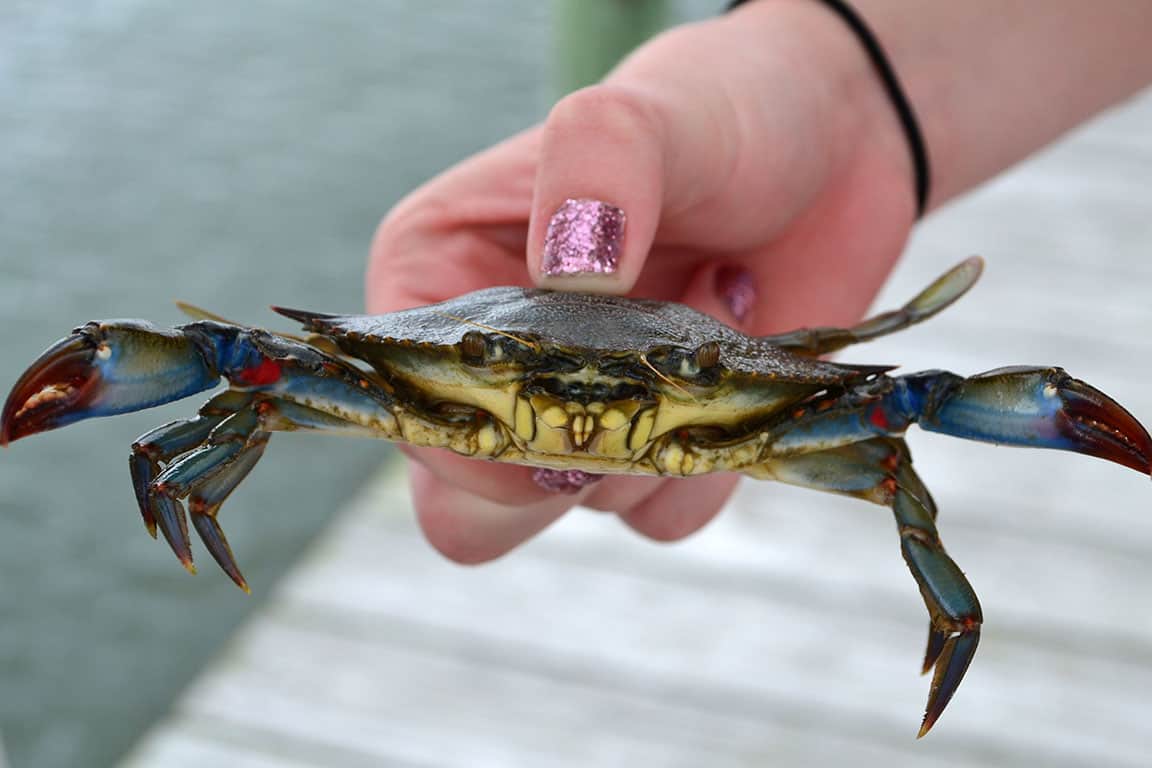 Norfolk's Obsession with She-Crab
Moving onto a Mid-Atlantic staple– What the heck is She Crab? Well, if you aren't from the area, and you don't care about crab too much, you probably don't know that she crabs are simply female crabs of any variety of crab.
They tend to be sweeter tasting, which is why they are distinguished from the male crab for recipes.
She-Crab Soup Classic
And the people of Norfolk take their She-Crab soup VERY seriously. In fact, there is a yearly competition in Virginia Beach- the Annual East Coast She-Crab Soup Classic- to determine who has the best.
Freemason Abbey Restaurant won the competition so many times they were asked to be one of the judges just so they would stop entering and give someone else a chance to win.
Freemason Abbey Restaurant
This 30-year-old restaurant isn't just your run of the mill spot either. Set up in an 145+ year old church, even on a Thursday night, you should grab a reservation, especially if there is a show in town (Broadway's Fiddler on the Roof was playing down the street the night we popped in).
Yes, most the clientele leans towards the older generations, but that doesn't mean the food is old and stuffy.
That She-Crab soup brings in kids of all ages, as do the drinks. The bar is a great spot to pop in for happy hour, and the old church stain-glass and wood facade is just fun to check out while you wait for your perfect prime rib to come out of the kitchens.
Just think– someone once worshipped here, although the pews are long gone, as are the sermons about gluttony and the virtues of prohibition.
Norfolk Botanical Garden
I've saved the best for last! I love a good garden, no matter what time of year. Apparently, Norfolk Botanical Garden has a gorgeous azalea garden, but we visited in winter. We were there for the Christmas light displays.
Million Bulb Walk at the Norfolk Botanical Garden
Our trip coincided with the start of the Million Bulb Walk at the Norfolk Botanical Garden. This meant that we could savor every quiet, weekday moment of the holiday lights… without our kids!
Do you know how rare that is for a mother, let alone two moms with five boys between them?
My friend and I bundled up in our coats, mittens and hats, but thanks to a nice cloud layer, it really wasn't too chilly. We delighted in every tree lit with twinkle lights, the floating octopus and dolphins in the underwater scene, waved at a fire breathing dragon and giggled when we found things our kids would have been dragging us over to explore.
Best Light Displays
What did we love most? The fairy lights the garden designers had placed in the weeds.
No joke. In one section, the lights looked like fireflies floating around the tall grasses of the field. In another, the lights were white with a random colored bulb popping up. It sparked so many ideas of what to do at our own homes that we were frantically taking pictures and sending them to our husbands.
Obviously, we had to let them know what they would be doing at our houses the following weekend.
Snack Options in the Garden
A hot cider and snack cart was set up towards the front of the walk, and we could have taken a tram back to the parking lot at the end. We opted to walk back through the entire display, just because we could.
Best time to visit the Christmas lights?
There were no crowds since it was early in the season and a school night. We wanted to savor the quiet and take a little more time with our favorite lights, especially the Starry Nights area, fairy lights and Under the Sea, which we had passed early on when it wasn't quite dark out yet.
More Things to do in Norfolk VA
There is a lot more to explore when you are trying to figure out what to do in Norfolk, VA. You can climb aboard the Battleship Wisconsin (USS Wisconsin) at Nauticus to dive into the national maritime history of the USA at the Hampton Roads Naval Museum. Or, you could just go say hello to a red panda at the Virginia Zoo.
The MacArthur Memorial, Cannon Ball trail, boat tours of the Naval Base and a wander over to the Norfolk beaches for ocean views can also fill up your days with fun things to do, especially if you are in town on a beautiful, warm weekend.
Neighboring cities of Virginia Beach, Hampton Roads, Portsmouth and Newport News also have plenty to offer, but we prefer to make Norfolk our home base.
With the Hermitage Museum, Civil War history, Harbor Park and Town Point Park, plus superior hotels with pools for the kids, who could blame us?
Looking for a Norfolk Hotel? Check out Our FaVORITES!
Looking for more? Search for a great deal on Booking.com!
OR grab a Norfolk, VA AirBnb or Vrbo rental
This post is part of a paid partnership with Visit Norfolk VA. As always, my opinions are my own. When they aren't, you will be the first to know. This post may contain affiliate links. If you make a purchase after clicking one of those links I will receive a small commission.