Street art is all the rage right now. Even around the globe you will find wings by Kelsey Montague and local artists expressing themselves with paint, neon light and sculpture. The NEON District in Norfolk, VA embraces all of this and welcomes all kinds of artists into the area to create and develop their visual voices.
What is the NEON District?
The NEON District stands for the New Energy of Norfolk, a neighborhood that has emerged north of downtown in an old automotive strip mall that has mid-20th century roots. The Chrysler Museum of Art and the Harrison Opera House ground the NEON District in tradition. Artist studios bring fresh life to the area and comedy comes alive at Push. Larger creative ventures like d'Art Center and Rutter Family Art Foundation give students and contemporary artists a space to shine.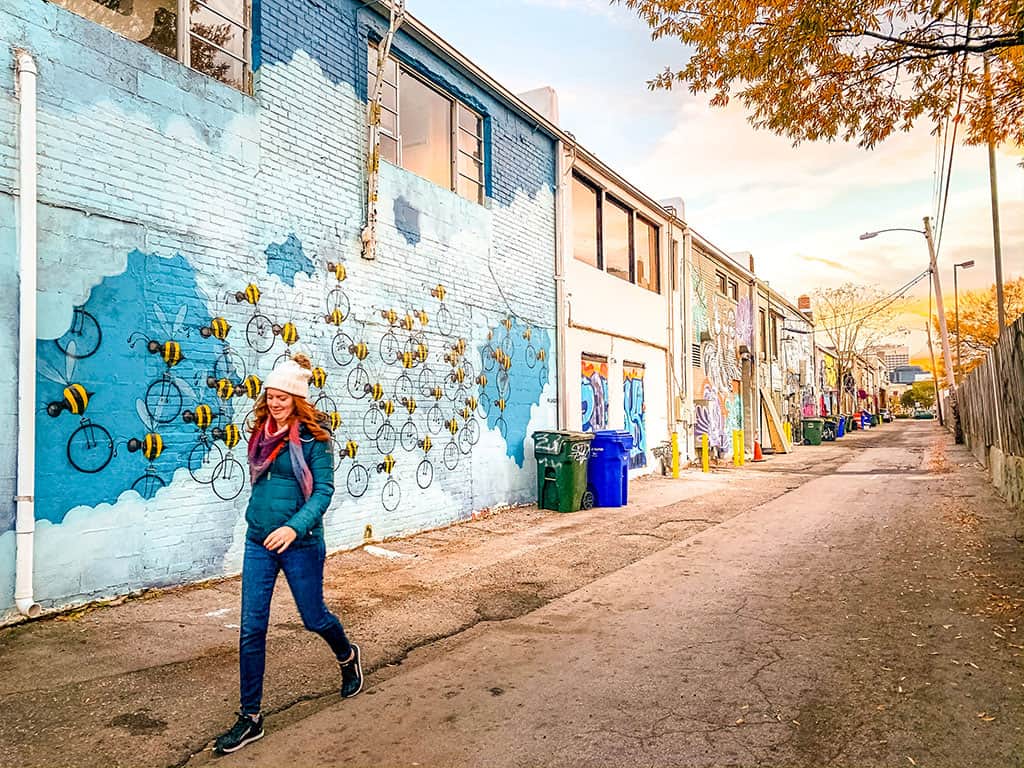 Why you should visit the NEON District
Murals aren't always the perfect, geometric patterns which seem to be the trend of the day. The NEON is one of the few spaces I've seen across the country that really celebrates the history of street art, from simple tags and graffiti art up to large scale storytelling.
Growing up in Philadelphia, where murals and street art have been celebrated since at least the '80s, I know the importance of seeing how art changes through the decades in a community. We can paint over anything, but should we? Can there be space for new voices along with the old? The answer is yes. (And when it is no, street artists will always find a way to challenge that decision through "graffiti," which is just unsanctioned street art.)
Graffiti finds a home in the NEON
If you wander down Magazine Lane between West Olney Road and West Brambleton Avenue, you will come across Graffiti Alley, where more traditional graffiti graces the walls. It almost feels out of place in this mural-centric zone. However, this is the one spot where anyone and everyone can practice their art without permission.
All of the buildings have agreed to let artists and taggers take over the back walls of their businesses. The only rule: if you are going to throw something up, it has to be better than what you are about to cover.
As a Philly native, I was used to seeing graffiti of all styles in the most random places. I now look for it in my travels—I crave it in fact. You can tell a lot about a society based on their graffiti art.
Seeing a sanctioned spot for graffiti was bizarre. Wasn't the point of graffiti to rebel against the Institution? As Joshua Weinstein from the Norfolk Tour Company would remind me, graffiti is just unapproved street and mural art. One man's weeds are another man's flowers.
And these artists, sanctioned and all, were throwing up some masterful pieces. Old school letters merged with airbrush techniques and tiny spray paint tags.
Two thirds of the alley are designated for random tags on poles, doorways, walls and even parts of the asphalt. The other third is covered with commissioned artwork. There are three buildings painted by local schools that no one can touch.
Local artists (and rebels) are given a lot of space to play without worrying the police will come after them. If only more cities responded to graffiti artists in such a positive way, giving them a canvas to paint on—who knows what hidden talents we would find?
Things to do in the NEON District
When you aren't wandering the streets of the NEON, you can pop into several local venues to catch a show, take a class or gaze at some more art. Who doesn't need the perfect excuse for a late night out or rainy day activity inside, right?
Push Comedy Theater
Catch local or national sketch, improve and stand up shows at this 90-seat comedy club. The theater also offers classes if you have the time, but we'd rather have someone else entertain us Thursday through Sunday. Tickets can be as cheap as $5, so you really have no excuse not to pop in for a little late-night laughter.
Harrison Opera House
Once a WWII USO theater, the Harrison Opera House is now the official home of the Virginia Opera, and the place to be if you want to see Cinderella (La Cenerentola) and Aida this season.
The Virginia Symphony Orchestra also performs at the opera house, when not at Chrysler Hall, and who can blame them? With great acoustics and only 1,632 seats, this theater feels intimate even though it can cram in quite a few people. The Vienna Boys Choir, Black Jacket Symphony and other traveling acts have also popped into the opera house to perform when they come to town.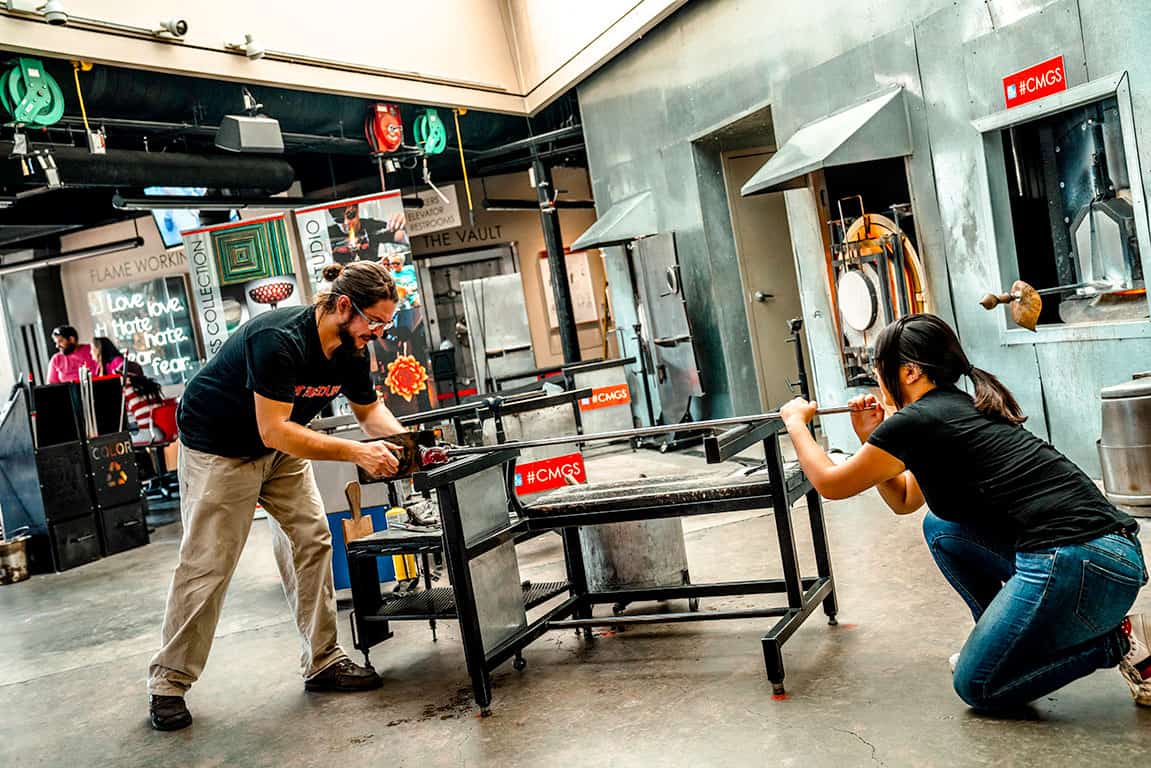 Free Glass making demo at The Glass Studio
Every day at noon you can walk into The Glass Studio for a free 45-minute glass making demo. This session goes above and beyond the usual "let's make a vase" that you will see at other museums. The staff goes into the properties of glass, what you can do with it, and why you want to bend this medium to your will. Oh, and they will readily break freshly blown glass for you. Your kids will love it!
Chrysler Museum of Art
The Chrysler Museum of Art is free to visit, with a massive collection you could spend days exploring. The museum has nearly 100 galleries and more than 30,000 works of art from ancient times all the way through the contemporary arts. Most impressive of all is their glass art collection, one of the best in the country. Turn right as you enter the museum and you can't miss it.
D'Art Center
D'Art Center is a non-profit offering one-day art classes (for a fee), events and exhibitions for visitors, as well as seasonal art shops where you can purchase artist's works.
Guests are welcome to pop in to see the resident artist's studios. D'Arts is located right across the street from The Glass Studio, and always free and open to the public.
Rutter Family Art Foundation
Located in the old Texas Oil Company sales office, the Rutter Family Art Foundation created a haven for the contemporary arts, known as "The Texaco Building." The family's personal collection of art dating back from 1963 to the present is on display, including paintings, sculpture, glass and video art by Sam Gilliam, Kenneth Noland, Gene Davis, Hank Willis Thomas, Maya Lin, Teresita Fernandez and Lynette Yiadom-Boakye.
Rutter's also hosts traveling exhibits and works in conjunction with the Chrysler Museum to support major art shows and first Thursday events. The Foundation also supports the annual NEON Festival, and helps to fund nonprofit arts organizations in the Hampton Roads area, which includes Norfolk, VA.
The Plot
The Plot is a temporary, funky little public park in the heart of the NEON District on the corner of Granby Street and Olney Road. You will notice it because there are two shipping containers on the edge of the sidewalk.
These containers don't just hold seating and other props for performances; they are also vertical gardens. Reclaimed wood is used as a fence to cover a construction zone that lines one side of the park, while a life size chess game and a performance space are ready for you and your little ones to run around and enjoy.
In the spring and summer public gardens flourish in the park, and you will find more than a few people enjoying lunch outside together.
NEON District Restaurants
La Brioche
If you love French baguettes, you don't want to pass La Brioche as you tour the NEON. The bakers came straight from France, setting up shop after finding it hard to believe that there were no good French pastry shops or spots to get fresh baguettes in town. Whatever the reasoning, we are so glad they opened this little café so we can get our coffee and croissant fix when in town.
Commune
With a sister restaurant in Virginia Beach, Commune is easily one of the best spots to grab brunch in the area… that is if you can get a table. This farm to fork concept is popular at both locations with egg sandwiches, crepes, sorghum pancakes and winter heirloom grit bowls on the menu to tempt your taste buds.
Zeke's Beans and Bowls
Fresh acai bowls, poke, salads, juices and smoothies are what you will find when you walk into Zekes. This might be just what your body needs if you have been enjoying the Norfolk cocktail and carb scene a bit too much during your visit.
Sanctuary
Tacos and burritos with an outdoor deck- do we really need to tell you anymore? Oh, and there is wine, beer and a cocktail menu to help you unwind after a hectic day of sightseeing and wandering the NEON District. Again… we say "tacos!"
Tour the NEON with Norfolk Tour Company
Art is awesome, but if you don't understand the messages and artistic vision behind it, you won't get the most out of the murals across the NEON. Jump on a Norfolk Tour Company NEON tour with Joshua Weinstein, the expert in all things history, art and culture in Norfolk, VA.
As a native of Hampton Roads, Weinstein grew up wandering around Norfolk, hanging out with the artists and went to school with many in the area. You can't walk around the NEON without bumping into someone he knows.
Your tour will bring you through the neighborhood, discussing its past, learning the stories of the street art, individual artists, and the future of the district. You will walk by public sculptures, massive wall art, murals that will be gone in a few months, and student projects that take over the benches and sidewalks.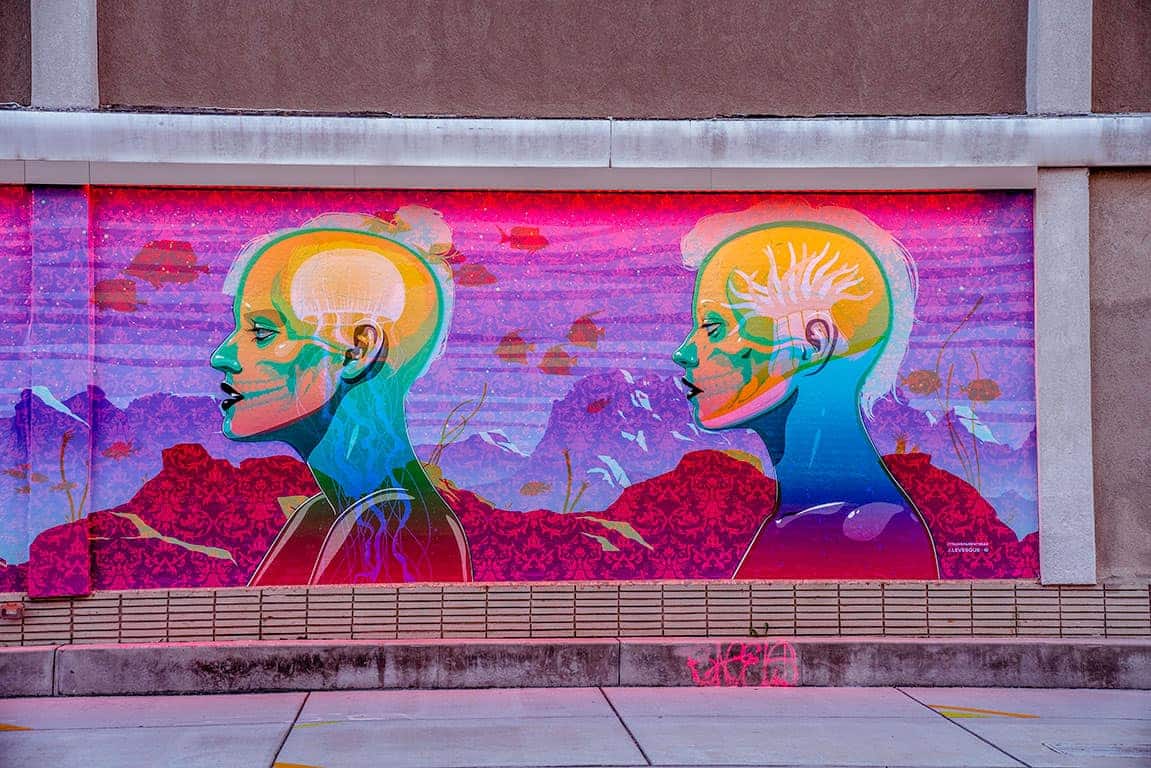 The tour also dives into the interactive art elements found throughout the district. This new form of mural art has been seen up in Philadelphia and other big mural cities, and the NEON is bringing the interactive medium to even higher dimensions, including neon lights as well. After all, you can't go to the NEON and not have neon there, right?
You can hop on a paid tour while you are in town, or wait for one of the monthly free public tours (April through October) courtesy of the Downtown Norfolk Council. Private tours are also available.
Norfolk NEON Festival
The NEON Festival happens once per year in October, celebrating the neighborhoods, local and international artists, as well as the Norfolk community. More than 80 works of art call the NEON home, with even more being added and rotated out every year during the NEON festival.
Visitors can attend gallery open houses and exhibits, panel discussions, art sales, as well as pop-up galleries and even skateboard trials.
The Norfolk NEON festival is perfect for families with kids of all ages, especially if you want to enjoy the live music, plus arts and crafts activities taking place throughout the neighborhood. Every year features a different line up of artists and events, so make sure you check the website for more details as we head into autumn next year.
Grownups can indulge a little at The Plot and Glass Wheel Beer Garden, where brews will be poured and entertainment by local community groups and bands will be happening on the main stage. Past acts include groups from Tidewater Community College, Teens with a Purpose, Governor's School of the Arts, Hurrah Players, Virginia Opera and Old Dominion University.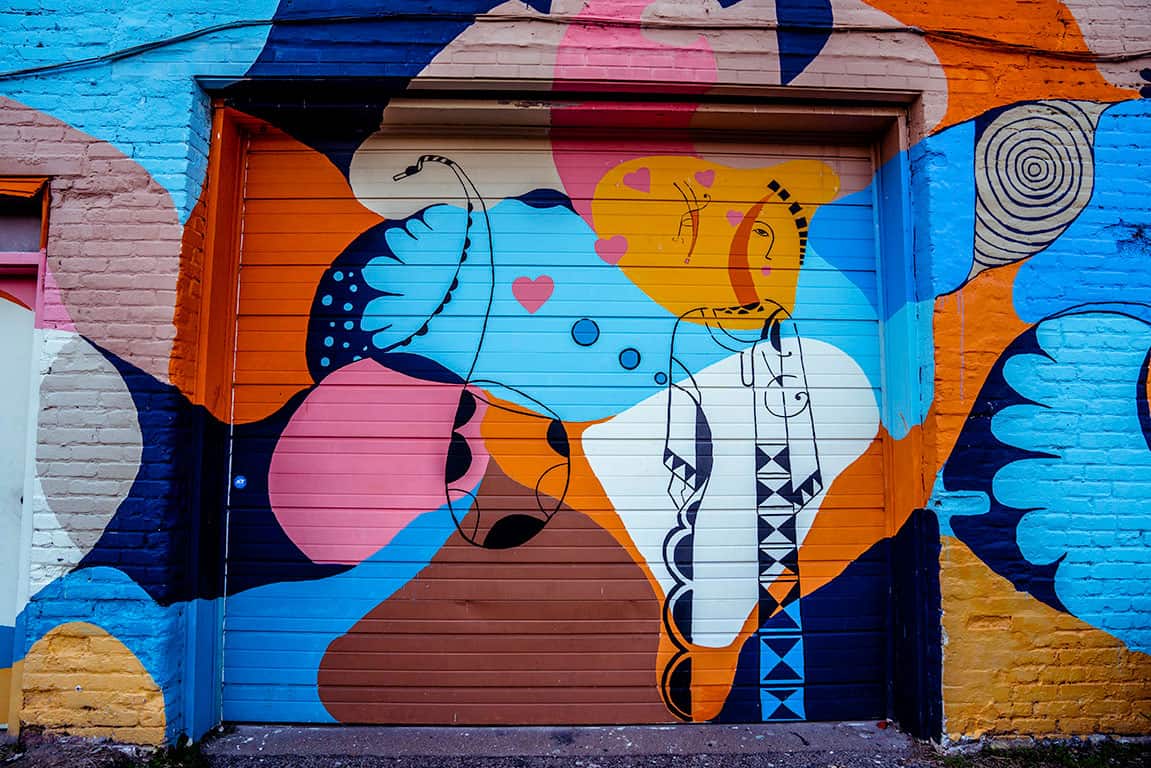 Nighttime public art tours led by Norfolk Tour Company will dive into the history of the NEON District, as well as the current and new art going up in the area. At least five new large-scale murals were unveiled in 2019. New art is expected to be added every year during the festival.
Looking for a Norfolk Hotel? Check out Our Favorites!
Looking for more? Search for a great deal on Booking.com!
OR grab a Norfolk, VA AirBnb or Vacation Rental
Private downtown Norfolk condo
Entire House in Ghent Neighborhood (steps from downtown)
Loft in the Norfolk Arts District
This post is part of a paid partnership with Norfolk, VA. As always, my opinions are my own. When they aren't, you will be the first to know. This post contains affiliate links. If you make a purchase after clicking one of those links I will receive a small commission.